TRENDS & SOURCING FASHION
LINEN DIRECTIONS SPRING - SUMMER 23 - ON AIR
For Spring/Summer 2023, flax is taking off with greater lightness and technicality.
Buoyed by a light breeze and mild climates, flax, naturally breathable, is coming alive and catching every refreshing gust.
Lightness is the theme of the season. A lightness that is breathable, transparent, aerial and airy, dense and undulating like flags in the wind, agitated, rippled like water caressed by air streams, mobile, and fluid like drying linen. Light like the spirit of the times.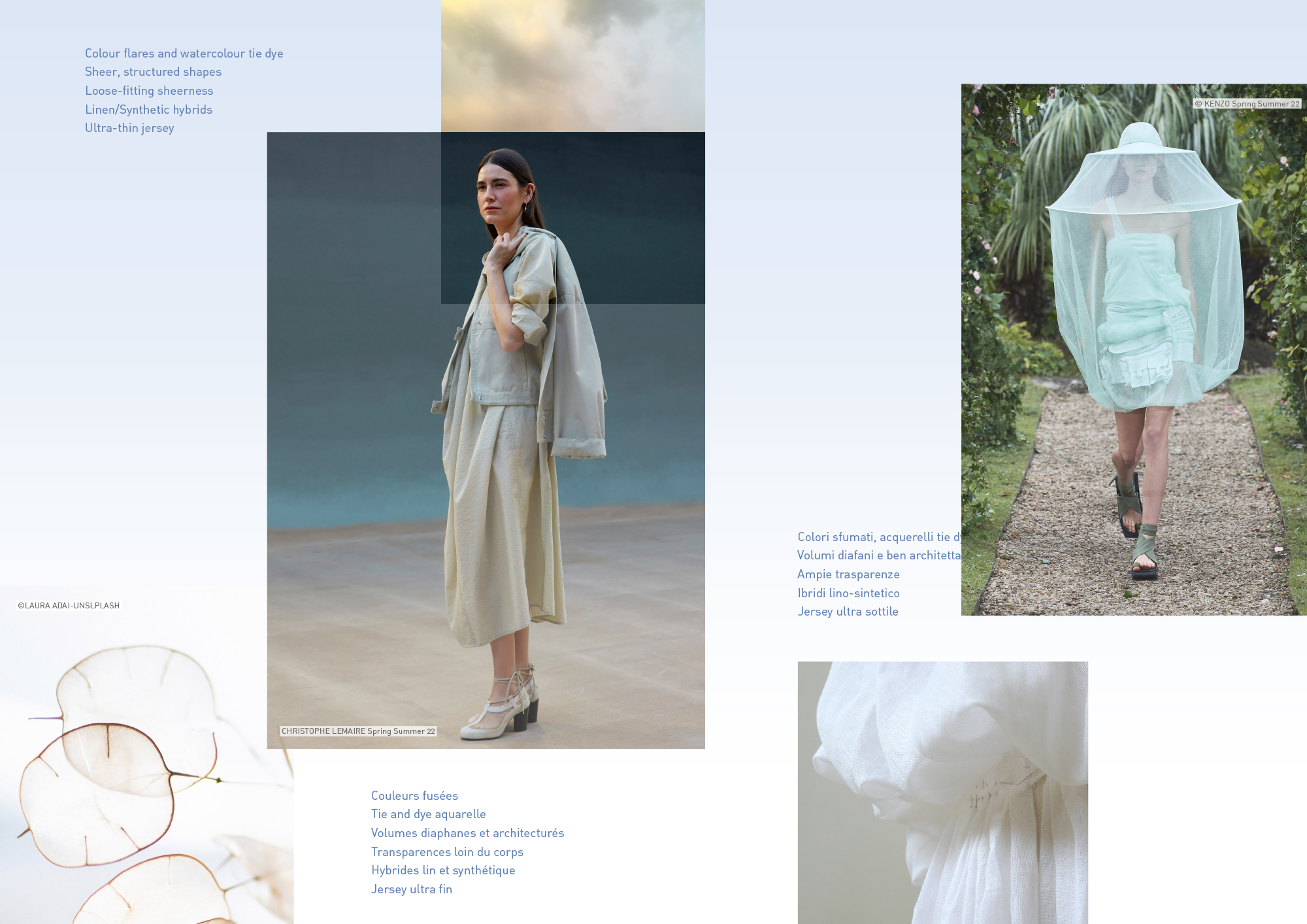 Refine and soften almost into nothingness, giving flax dresses and shirts the chance to soar.
More weightlessness, more grace and technique, yet less material.
The transparency of Spring/Summer 23 filters colour and bursts into a million brilliant explosions.
Nature's breeze lifts up the airy fabric, undulating its crisp strands.
The patterns of the coloured cloth are diffused by the sunlight.
Fabric and meshes with an open structure that let air through and paint with nothingness.
Delicate fishnets, sophisticated flax netting and coarse nets serve as ornaments inspired by organic shapes and geometric structures.
There are more and more complex intersections, down to the most delicate lace.
Meshes and gauzes blend together in poetic harmony.
For fashion and home, these sophisticated decorations reconcile refreshing creativity and the power of nature.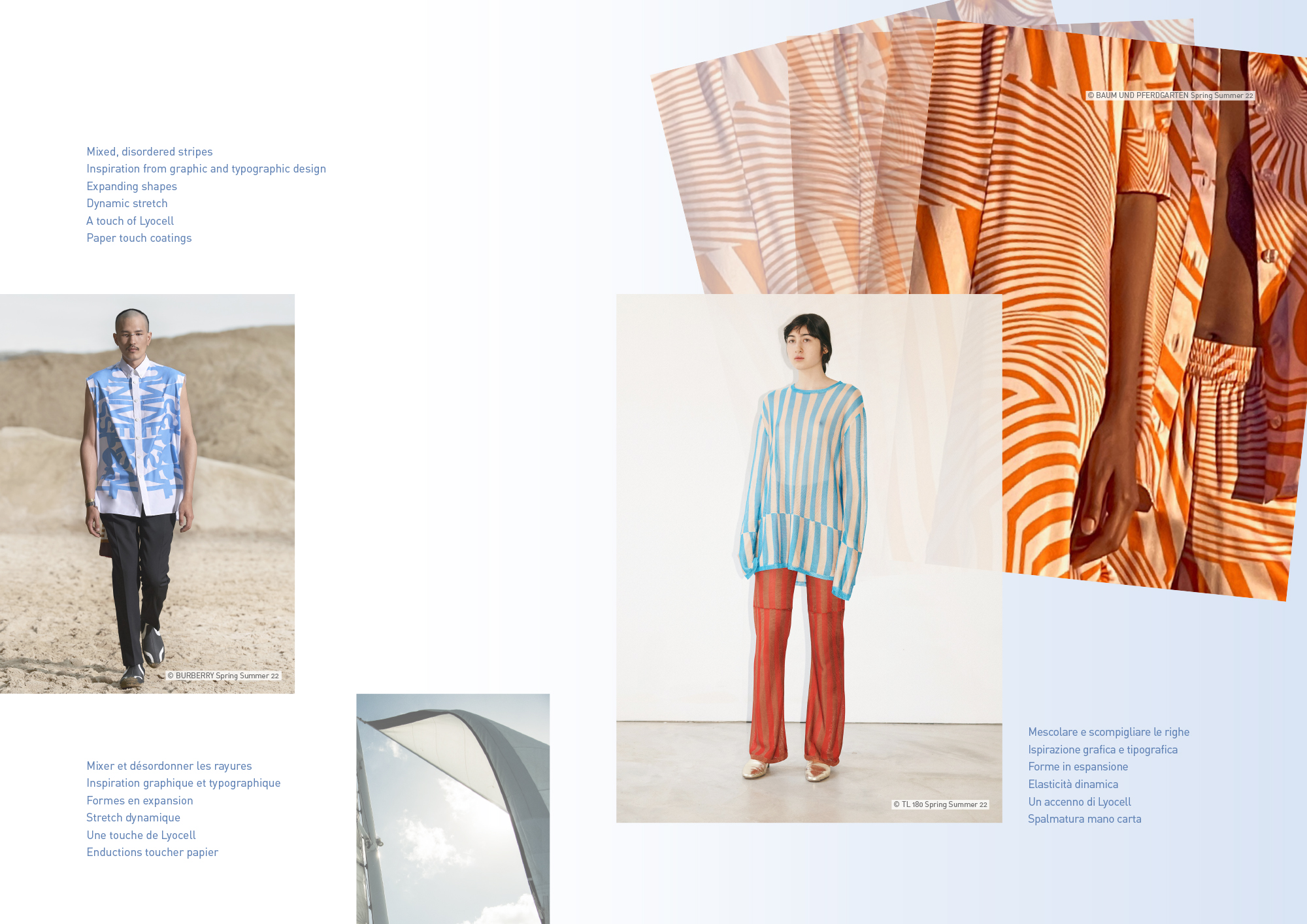 When the wind blows across fabric… the clothing bursts forth, and so do its colours.
Fine fabrics and high-density poplin, invisible coating that is durable and crisp to the touch, flax flush with a silver hue like the wings of a glider.
A live, intense, colourful lightness, with simple two-colour stripes that are somewhere on the scale between pop art and boat sail.
Decorative clothing and textiles brimming with contagious joyful energy.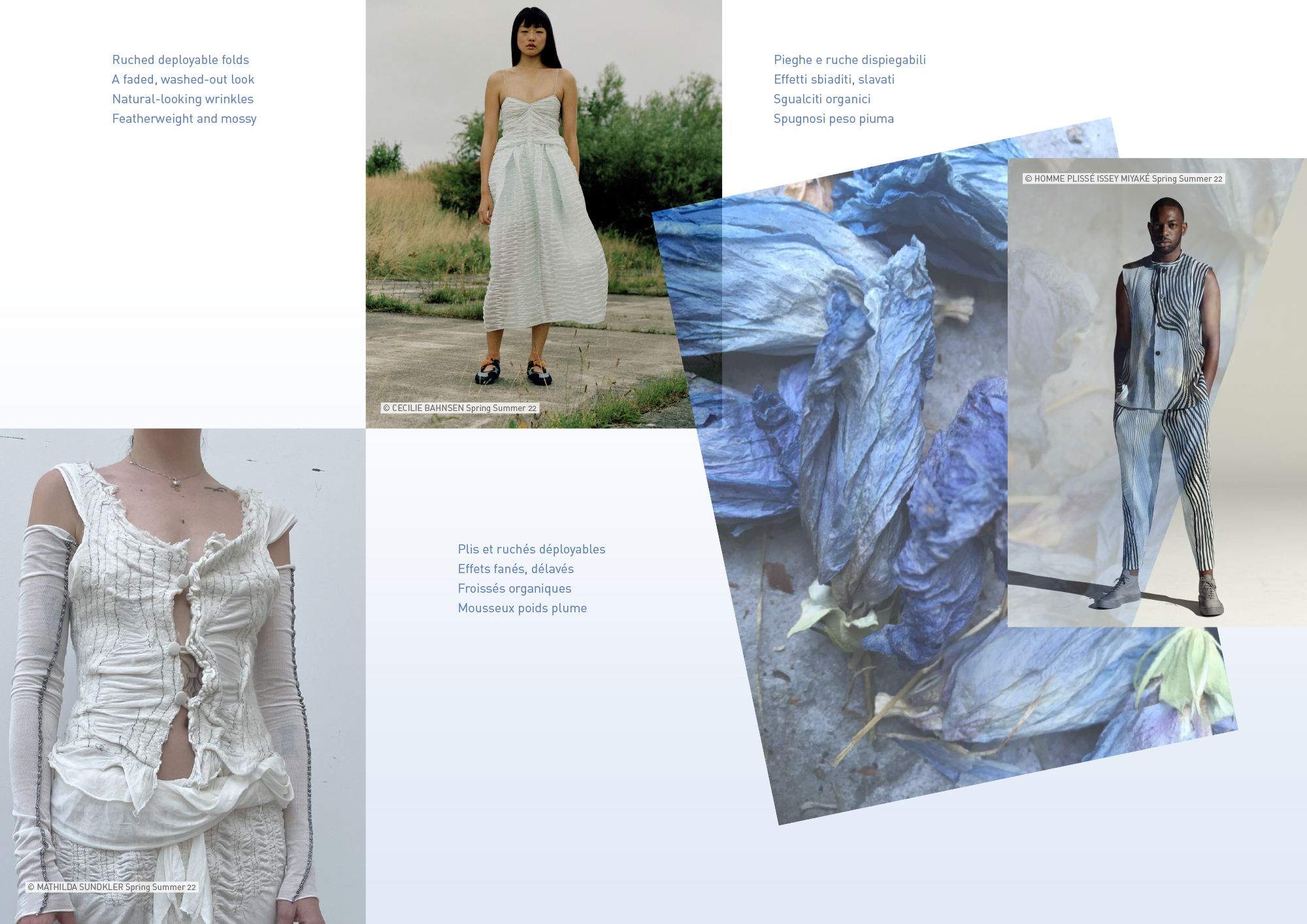 A breath on the surface of flax. Embossed outlines, hypnotic undulations, vibrant micro-textures, and irregular seersuckers breathe life into the fabrics.
Haphazard pleats, 3D honeycomb shapes, Jacquard pockets play with air and capture it to achieve additional lightness.
These fabrics appear thick but are soft, comfortable, and refreshing.
The colours mix and mingle.
A cosy summer casual is on the horizon.
LINEN DIRECTIONS AUTUMN - WINTER 22.23
The time has come to EXPAND our horizon. To imagine new fields of possibilities. To rediscover, in this digital era, the expressive power of materials. To shape long-lasting designs.
A responsible creative recovery towards a dynamic balance: linen as material of choice, safe, durable with a low environmental impact combines with functional solutions and blends for well-designed, comfortable and resilient collections.
Linen Trends for fashion textiles by Elementi Moda for CELC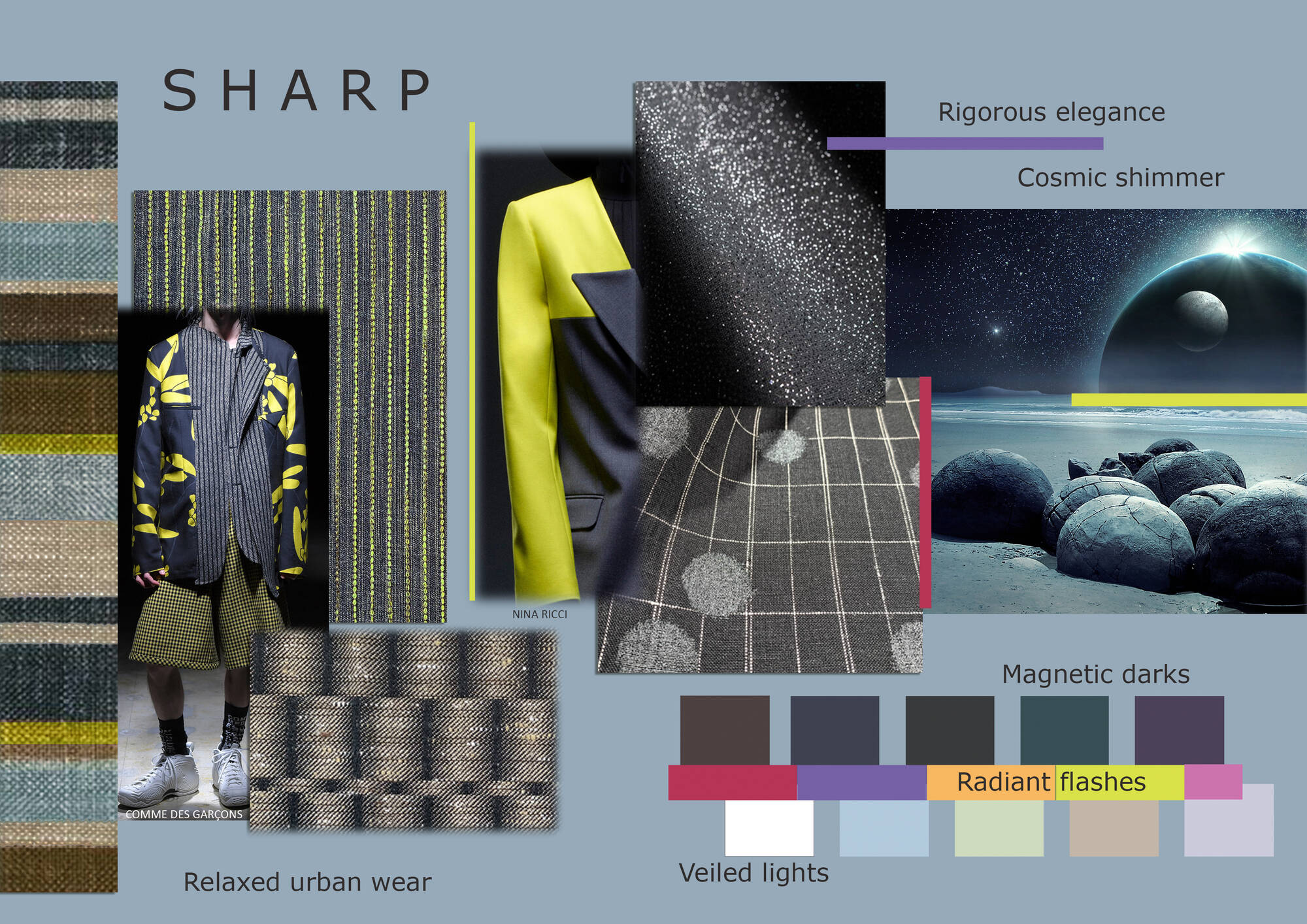 Exploring new territories, elegance becomes rigorous and comfortable with accurate details.

Colours are obscure combined with radiant flashes and softened by veiled lights.

High density linen weaves, cosmic shimmering surfaces, linen-wool in a mix of stripes and checks, double-face linen crêpe, graphic jacquards. Shirting is compact and precious.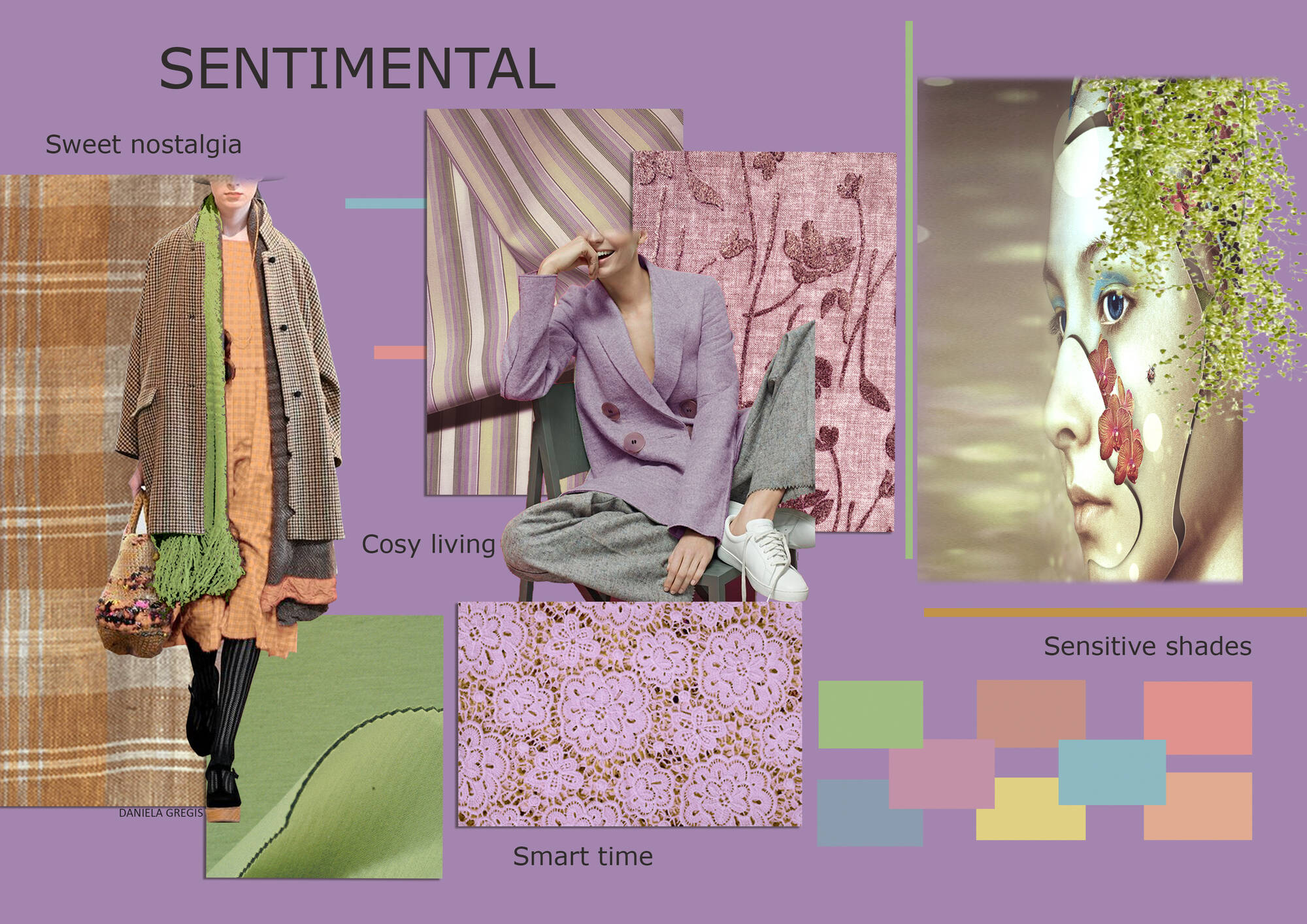 Nostalgia of simple things. Lounge style with durable seasonless materials.

Sensitive shades speaking the language of cosy living in a delicate but contemporary atmosphere.

Soft materials breathing and warm in linen-wool-cashmere, variations of textured stripes and checks, small textures. Washed linen, vegetal vintage prints, linen-silk-cashmere jersey, lace with a romantic touch.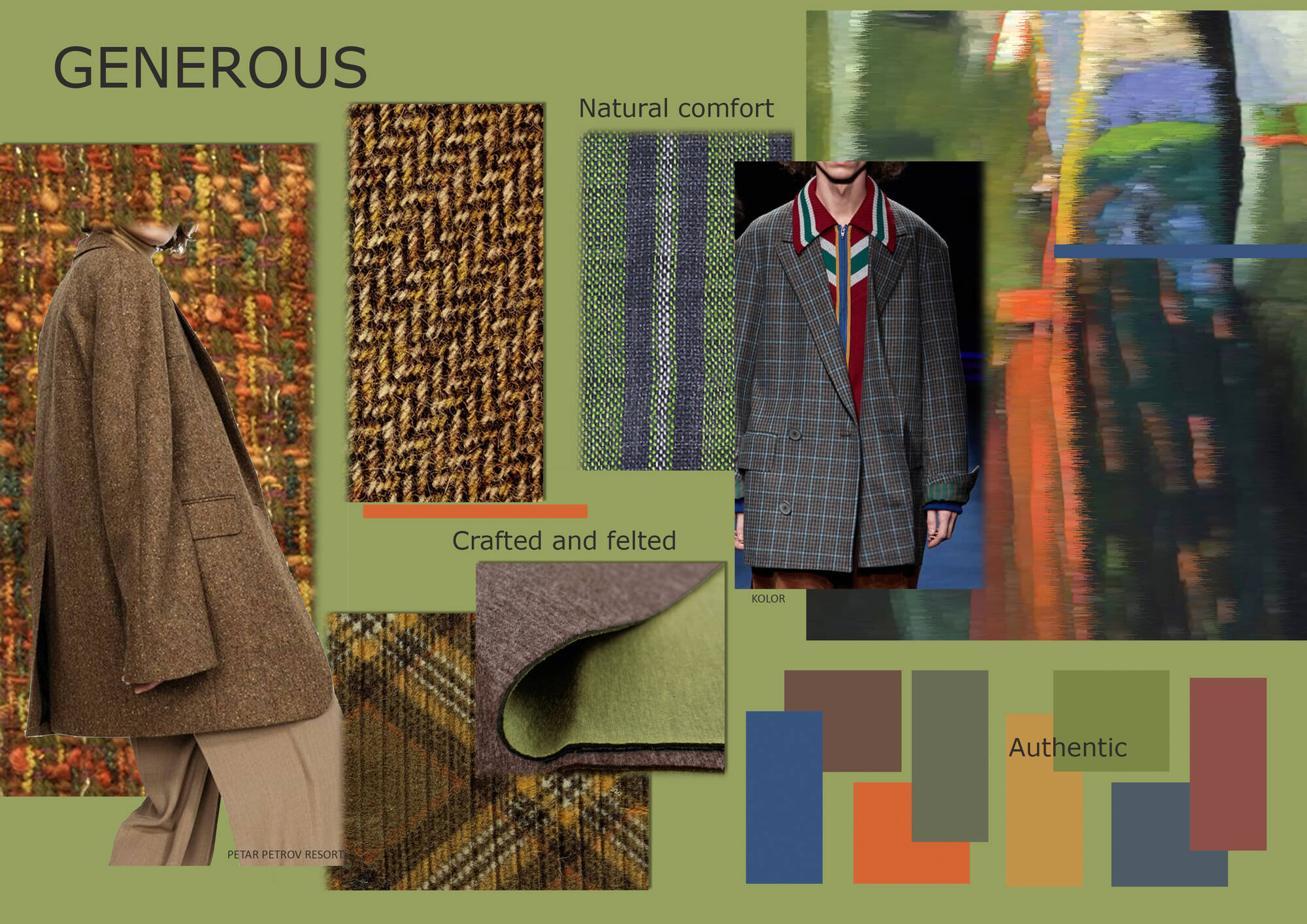 Natural comfort in everyday life in a mix of irregular, artisanal aspects and protective technical materials.

Colours are borrowed from nature, expressing roughness and softness, simplicity and abundance, the authenticity of materials.

Rough textures in linen-wool, flannelled brushed felted finishings, plaid checks and stripes, compact linen-wool fleece, bonded technical weaves, waterproof in 100% linen breathable, thermal.